What happens to your business when your computers go kaput? Nowadays, you are completely up the creek. So why not take preventative action, and keep your computers safeguarded at all times? Make the smart choice, and purchase protection from Haxxess Enterprise Corporation for your Sudbury, ON business.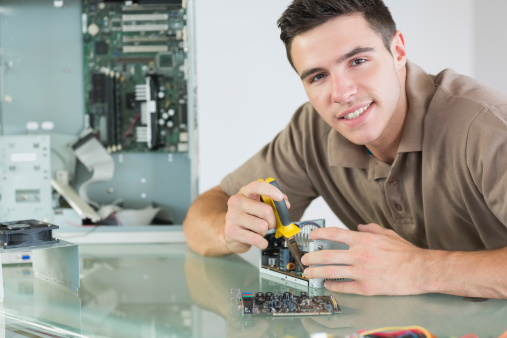 Losing data in any capacity causes your business unnecessary stress and loss of funds. There are many ways that partial or total data loss can happen: accidental deletion by an employee, liquid spills on technological equipment, a natural disaster, a fire, a virus. Information that's not safeguarded can easily be wiped, and it can happen at any time. Haxxess offers both data backup and data recovery for computers, hard drives, or any other data storage.
Haxxess offers both on-site and off-site protection solutions for your business. On-site services include hardware servers that provide a back-up option if need be. Off-site services include cloud hosted off-site back up and recovery solutions. The cloud recovery option means that if your business premises are destroyed, for example, in a fire, you will still have your client and business data available for recovery when your business is back up and running. Clouds also allow data access from anywhere with various internet devices.
If your IT services are dated, insufficient, or incompatible with your business, there are many different possible negative outcomes. These include loss of business productivity, lower staff morale and efficiency, loss of face with clients and customers that you value, and of course, loss of income. If you take advantage of our small-business software solutions for your Sudbury trade, we can help you leverage and maximize your operations, and reduce your operating costs. Our technical expertise ranges from consulting to developing a custom design IT solution for you, VoIP solutions for improved business communications, network firewalls, device security and compliance solutions, IT Documentation, LAN and WAN Networking, 24/7 intrusion detection, VPN, wireless network design, network typologies, email spam filtering, and IT roll-outs and infrastructure migrations, and fixes that come about through partnerships with: Microsoft Small Business Solutions, VMWare, Fortigate Firewalls, Cisco Routers, Lenovo Hardware, Microsoft Exchange, Cloud Computing, StorageCraft, Vianet, and Microsoft Hyper-V Hypervisor.
Haxxess also offers electronics recycling – we're a drop off location for the Ontario Electronic Stewardship! So if your Sudbury business has older electronics gathering dust, come give them to us, and keep them out of the landfill.
Let us show you how much we can help – come see what the best in Sudbury Computer Repair looks like. Give us a call today at (705) 222-TECH, or email us anytime at [email protected] .