Are The Risks Worth the Rewards when It Comes to Tap-and-Go Card Payments?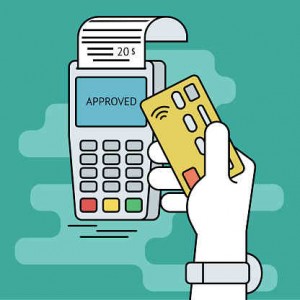 Technology is all about convenience; whether it's keeping us connected, helping us get work done, giving us access to music, movies, and games, or streamlining how we shop and make payments. But when it comes to tap-and-go flash technology for debit and credit cards, do the rewards really outweigh the risks?
An Easier Way to Shop
The reward is obvious – simply tapping your card when making a purchase at a checkout line or drive-through is easier than swiping the card and then making your way through several prompts and entering your pin number. But is it safe?
Most banks have a cap of $100 on tap technology, making it ideal for small, quick purchases. If you're making a bigger acquisition, you need to use your card as usual.
The Downside of Convenience
Your fears were right, using a tap card is certainly easier for you: but that also means it's easier for your card to be used when it's stolen.
Should your debit or credit card fall into the wrong hands, a thief only needs to tap your card to make a purchase. No pin, no verification – nothing to stop them.
This type of hassle-free payment is increasingly common; Apple devices now offer Apple Pay, where pre-registered payment information is used to make fast purchases with a single click.
Again, this makes shopping a whole lot easier for you, but it also makes it easier for just about anyone to make a purchase with your phone or card.
How to Avoid The Risks
Opt out. If you simply don't think you need tap technology, talk to your bank or call the number on the back of the card. The feature can be deactivated, so you don't have to worry about it at all.
Put a cap on. If you want the convenience of tap technology without all of the risk, get in touch with your bank and ask about setting a cap of $10 or $20 dollars to make small purchases simpler.
If you find the feature convenient, simply exercise proper caution. If your card is ever stolen or even just misplaced, call your bank right away so they can put a freeze on the account.
Check your bank statements regularly. If there are any unusual purchases made or if you fear your card has been compromised, they'll work to correct it. But be warned: getting back lost funds is often a long process.
Find out about monitoring card activity for debit and/or credit cards. This will ensure if something suspicious happens, such as an unusually large purchase, you will be notified immediately.
When it comes to tools like tap-and-go technology for debit cards or streamlined payment methods like Apple Pay on your phone, you need to weigh the risks and exercise proper caution. Do you really need to save an extra minute at the checkout line when it means your funds are more easily accessible to potential thieves?
Reach out to Haxxess Enterprise Corporation to learn more about the latest technology trends and how to stay one step ahead of the curve. Become a manage services client and you'll never have to worry about whether or not your business is protected.
Contact us at [email protected] or (705) 222. -TECH.