The concept of a typical light bulb used to provide light in a home being used to transmit data may seem far-fetched to some, but in actuality, the technology is closer to being a reality than many realize. With the introduction of Li-Fi, standard household lighting could soon offer a means of data transmission that could work at speeds up to 100% faster than Wi-Fi.
Harold Haas, of the University of Edinburgh, first invented Li-Fi in 2011. The technology uses visible light communication (VLC) to send information at incredibly fast rates of speed. This works essentially like an extremely fast signal lamp, relaying messages in binary code. Previously, during lab experiments, this technology was able to transmit at speeds of approximately 224 gigabytes per second, compared to Wi-Fi 's performance of about 600 megabytes per second.
Estonian startup, Velmenni, is now starting to implement this technology into real word situations, who have begun to test Li-Fi connectivity in a variety of industrial and office environments. At this point, they have been successful in achieving connectivity speeds of around 1 gigabyte per second.
The Benefits of Li-Fi
There are many benefits of Li-Fi connections over Wi-Fi. Some of the most obvious benefits include:
Increased Security – because the signal is carried by optic light it cannot go through walls, which makes local networks more secure.
A Wider Range of Frequencies – the use of the visible spectrum could allow Li-Fi to send messages and information across a much wider range of frequencies than used by Wi-Fi.
Frequency Congestion Solution – with internet usage across the world steadily on the rise, Li-Fi connectivity may be the answer to increased frequency congestion. Predictions have been made that that by 2019 global data use will reach 24.3 Exabyte per month, which exceeds the volume that current wireless connections are able to handle.
Double Duty – Li-Fi connections serve a double purpose, not only for connectivity but to provide illumination as well. The speeds at which the LED light flickers in order to transmit information is too fast to be seen by the naked eye, therefore, wouldn't be distracting or cause annoying flashes in their ambient light.
TedTalk
Haas recently demonstrated the new technology on an episode of TedTALK, stating that ordinary household LED bulbs can easily be converted into transmitters in order to provide internet users with more efficient connections. He stated this could by done by simply outfitting a small microchip into a basic illumination device, effectively combining two functions, illumination, as well as data transmission.
While we are still in the beginning stages of determining whether or not Li-Fi can be feasibly implemented worldwide, VLC technology is already proving useful in a number of applications, including children's toys.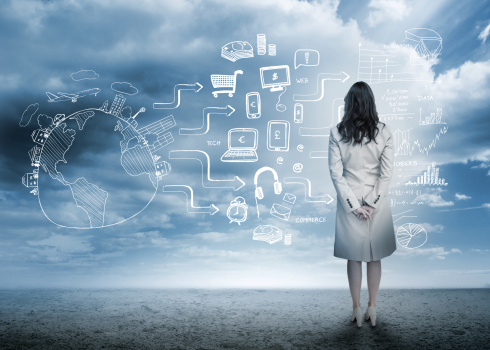 Haxxess Enterprise Corporation is the preferred choice for managed IT services in Sudbury, North Bay and Northern Ontario. Call us at (705) 222. -TECH or email us at [email protected] for more information.